The people at Cool Blind Tech review our FREE EasyReader app
Published: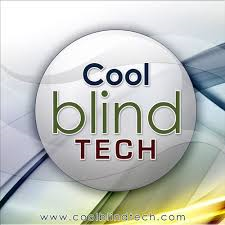 If you're not familiar with the Cool Blind Tech website, it's a resource which focusses on accessible products and services, universal design and technology devices which empower the blind and visually impaired community.
It's a very well respected and revered website, so you can imagine our reaction when they featured our free EasyReader iOS app on their cool picks podcast earlier this month.
Would they like it?
The short answer is "yes!"
Here are some of the things they had to say:
Jessica: "It is a comprehensive reader. You can get all of your newspapers, all your books, everything all in one place. And it's even got the ePub sources right there, so you can get Project Gutenberg, and things like that, for all your classic books.

It's really nice, and very easy to follow. It has one menu that you can access everything from. Great for low vision because it has all the low vision tools too and lots of voices to choose from too. I've always liked Dolphin products, Dolphin Guide is really great for people who are just learning technology, so I thought this EasyReader should be a great resource as well, and it definitely hasn't let me down so far."
Tomi: "If you are using NFB Newsline or something, this could be a viable replacement because at least it would consolidate your use of apps into one app where you could access your Bookshare content...your newspaper content, Bookshare also, some newspapers...But this has really cool potential and I'm very surprised that it's free, no cost at all I believe. So that is, that is crazy."
Rachel: "Because it puts everything in one place and being able to read all different kinds of things, newspapers, books, whatever you have at hand just in one place, it's so easy and it's just going to motivate people to read even more. "
Thanks so much guys! We're thrilled that you spotted our app release, and even more happy that you like it. We're currently working on the Android version which will follow soon.
---
Download EasyReader for iOS FREE from the app store now.
Hear the full podcast on the Cool Blind Tech website.
---