Congratulations to Ellie Southwood, new Chair of RNIB
Published: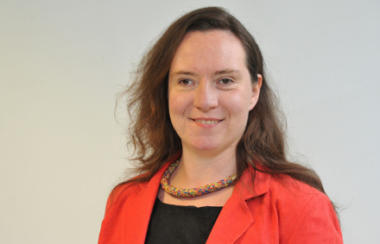 Following Kevin Carey's announcement that he will be standing down from his current role as Chair of RNIB, the board of trustees has announced that he'll be succeeded by current Vice Chair Ellie Southwood later this year. Kevin will be working with Ellie to ensure the smooth transition of the role.
Ellie has been blind since birth, and a trustee of the charity since 2010. She is a local councillor in Brent, North West London and has worked in the public, commercial and charity sectors, including recruitment for senior roles and consultancy for organisations going through change.
On her appointment to her new role, Ellie said:
"I'm thrilled to be the next Chair of RNIB. This is an organisation with great staff and volunteers who come to work every day to support our blind and partially sighted customers, and their families and friends."

"I'm excited about our future and look forward to working with Kevin to ensure that we are able to continue to reach more people with the information and support they need."
We look forward to our continuing relationship with RNIB and Ellie, and mutually supporting each other to deliver cutting edge access technology to people with a visual impairment.
Good luck Ellie!
"I'm thrilled to be the next chair of RNIB. This is an organisation with great staff and volunteers who come to work every day to support our blind and partially sighted customers, and their families and friends." - See more at: https://www.civilsociety.co.uk/news/rnib-announces-next-chair-to-take-over-from-kevin-carey.html#sthash.18CMqufk.dpuf
Southwood said: "I'm thrilled to be the next chair of RNIB. This is an organisation with great staff and volunteers who come to work every day to support our blind and partially sighted customers, and their families and friends." "I'm excited about our future and look forward to working with Kevin to ensure that we are able to continue to reach more people with the information and support they need." - See more at: https://www.civilsociety.co.uk/news/rnib-announces-next-chair-to-take-over-from-kevin-carey.html#sthash.18CMqufk.dpuf
Southwood said: "I'm thrilled to be the next chair of RNIB. This is an organisation with great staff and volunteers who come to work every day to support our blind and partially sighted customers, and their families and friends." "I'm excited about our future and look forward to working with Kevin to ensure that we are able to continue to reach more people with the information and support they need." - See more at: https://www.civilsociety.co.uk/news/rnib-announces-next-chair-to-take-over-from-kevin-carey.html#sthash.18CMqufk.dpuf