Computer Accessories
Enhance your experience of SuperNova and GuideConnect with accessible computer equipment.
SuperNova & GuideConnect Accessories
Accessories listed are currently available for delivery in the UK only.
If you are outside the UK, please contact your Dolphin Dealer to buy.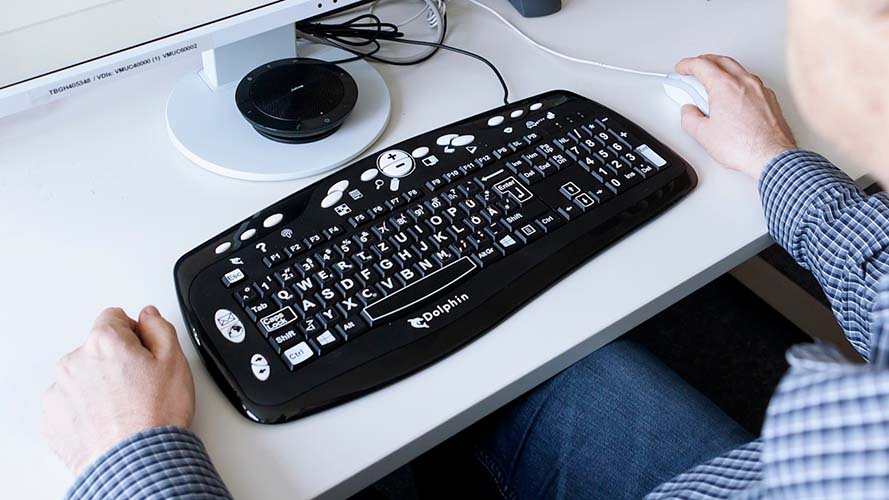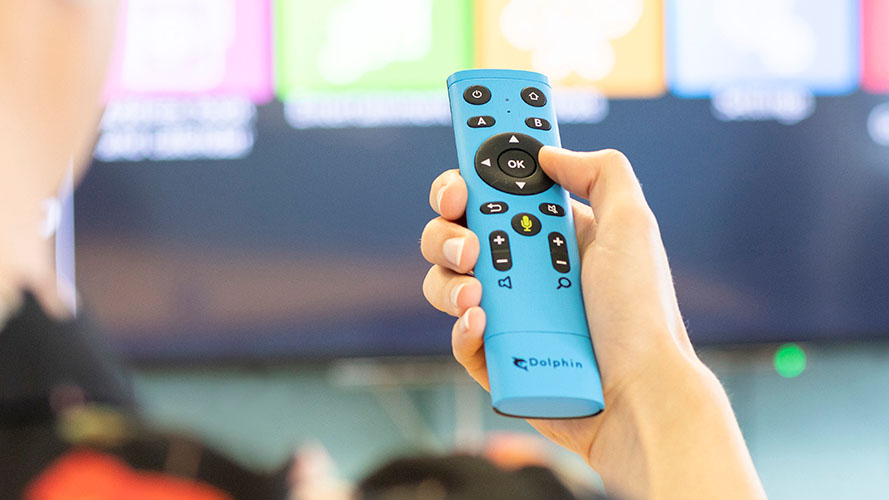 Dolphin Remote Control
Price £20
The easiest way to operate GuideConnect when used with a TV box, laptop or desktop computer. This lightweight remote control has simple, tactile buttons with high-contrast symbols that give you full control of GuideConnect.
Scroll through GuideConnect menus and icons
Adjust size of text and icons
Adjust volume and mute audio
Switch GuideConnect on and off
Voice input button to dictate emails, documents and web addresses
Please note: Dolphin Remote Control is already included in all UK GuideConnect packages.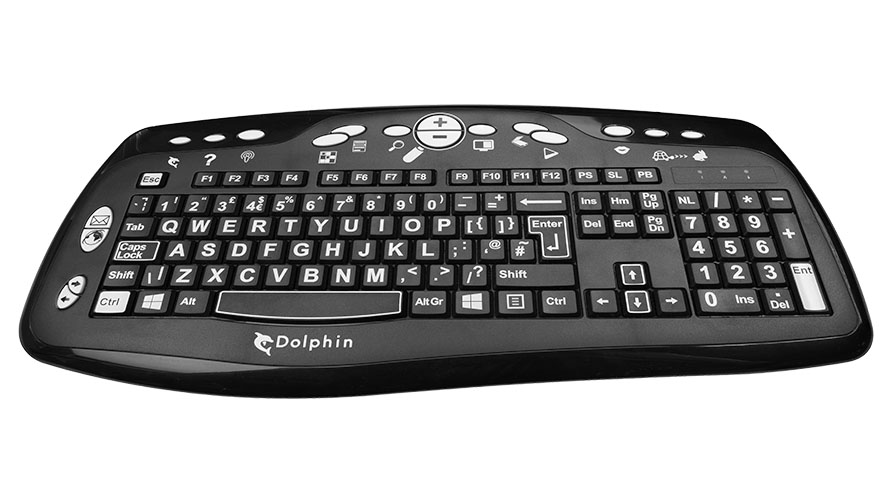 Dolphin Keyboard
Price: £59
Exclusively designed by Dolphin, the Dolphin Keyboard has a range of accessibility features that make it quicker and easier for people who are blind or partially sighted to use their computer.
Large print, high-contrast lettering on keys for accurate typing
Tactile 'Quick Buttons' that open and operate Dolphin software
Suitable for use with GuideConnect and SuperNova software
Please note: The Dolphin Keyboard is included in UK SuperNova and GuideConnect desktop packages.
SuperNova Quick Buttons Include

Open SuperNova Control Panel

Open Emails

Open Help

Adjust Magnification

Switch Colour Schemes

Launch Speech

Launch Web Browser

Launch Media
GuideConnect Quick Buttons Include

Launch GuideConnect

Open Help

Adjust Magnification

Open Scanner Menu

Open Website Menu

Activate Voice
Document Cameras
SuperNova users can turn their computer into a high-definition video magnifier, using the Connect & View feature and a document camera.
Simply plug a document camera into your desktop PC or laptop, and select Connect & View in SuperNova to enlarge and view photographs, letters, greetings cards, labels, prescriptions, packaging and more.
Learn more about the SuperNova Connect & View feature.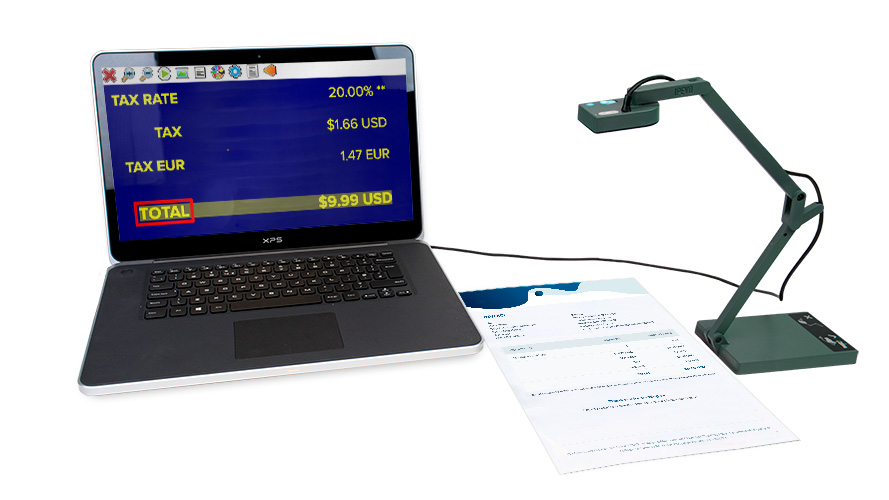 21.5" Touchscreen Monitor
Price £215
Update your monitor to take advantage of touchscreen controls. With this screen you can use simple and intuitive gestures to magnify text, zoom in and out on screen, select and highlight text etc.
This is also an excellent choice if you use multiple monitors to view on-screen information. Ideal for work, a home set up or for gaming. You can choose to view information across the monitors, or view a different application on each screen. You can also choose different colour schemes and magnification settings on each monitor if required. Read more about using SuperNova on multiple monitors.
21.5" viewable area

10 point touch technology

1920 x 1080 resolution

16:9 aspect ratio

HDMI connector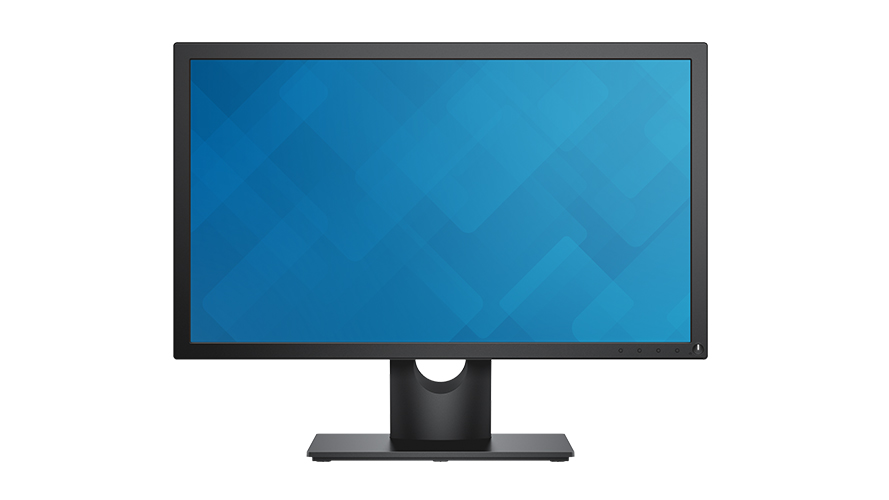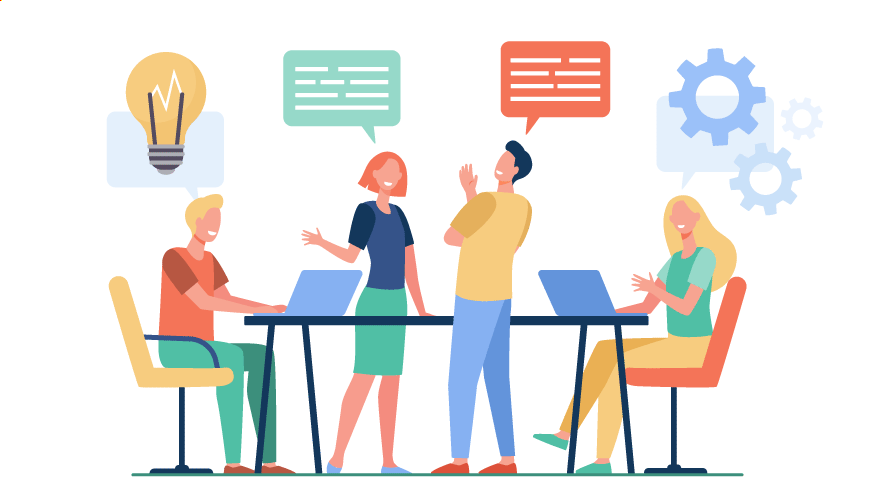 Half Day Onsite Training
Price £350
Full training on your chosen Dolphin assistive technology product with an expert Dolphin trainer.
We will take you through all product functions so you gain an excellent working knowledge of the Dolphin software you've chosen.
We can tailor this training to your specific needs and your job role to help you use the Dolphin software to its full capacity. This helps ensure you are able to use your computer independently and confidently.